Marshall Austin MAP24
Product Description:
The Marshall Austin MAP24 is a great choice for those who are looking for a mid-sized mobile stage at a low cost that still offers impressive performance capability.
The MAP24 mobile stage is easily towed by a half ton truck or SUV which reduces the headaches associated with renting larger, towing trailer stages which take more time to setup and maintain.
This mid-sized, but strong, stage can hold an impressive 2800 lbs on both sides of its tent top. It also has a great safety rating which allows it to withstand winds up to 60 mph.
Product Features:
24' x 8' Deck

2800 lbs. load bearing tent top

Optional rolling billboard package

Water resistant and fire retardant canopy, backdrop, sidewalls and skirting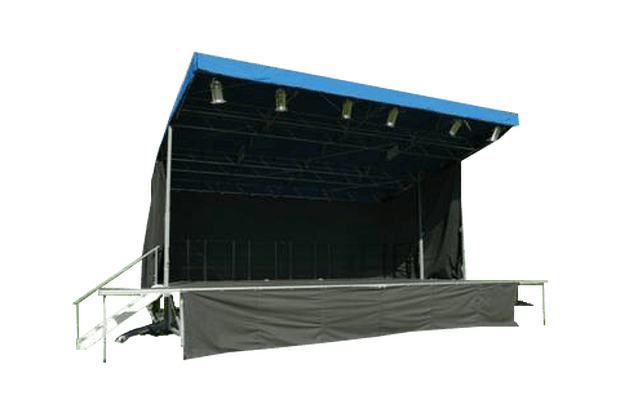 Product Specifications
Stage Roof
Towing
Stage Deck
Other
Height from floor (front canopy): 12′ 6″
Overall Length(w/ hitch): 28′ 7″
Floor Size: 24′ x 16′
Leveling/Stabilizer Jacks: 7,000 lb Capacity
Height from floor (rear canopy): 9′ 6″
Stage length: 24'
Floor Height: 44"
Power Source: 125-amp 220/110v load center
Tent top loading (single side loaded): 1640 lbs
Stage width: 8′ 5.5″
Stage floor load: 100 psf
Personnel Required: 2
Tent top loading (both sides loaded): 2800 lbs
Overall height: 9' 5.5"
Site Prep: None
Gross vehicle weight: 4,240 lbs.
Hauling Mode: 1/2 Ton Truck/SUV
Canopy features: water resistant and fire retardant
Hitch tongue load: 350 lbs
Marshall Austin MAP32
Product Description:
The Marshall Austin MAP32 is a lightweight, heavy duty mobile stage that can be easily towed by a pickup truck and operated by a hand held wireless remote control.
This one of kind mobile stage features a unique structure that will be sure to set your event apart. No other mobile stage of this size comes with such an uncommon design while still supporting 4 separate fly bays.
With a 32' x 24' stage floor, 17,500 lb load bearing roof and 4 side speaker rigging beams, there is almost no production the Marshall Austin MAP32 mobile stage cannot handle.
Product Features:
32' x 24' stage floor

17,500 lb. load bearing roof

Optional custom banner package

2,500 lbs capacity per each of its 4 fly bays
Product Specifications
Stage Roof
Towing
Stage Deck
Other
Length and Depth: 31' 9" x 32' 9"
Trailer Length: 36'
Floor Length/Depth: 32' x 24'
Windwall System: 6 point cable release
Clearance (Stage left/right): 19' 11"
Trailer Width: 8'
Floor Height: 60" - 78"
Hydraulic System: Electric auxiliary hydraulic system
Clearance (Center Stage): 20' 11"
Trailer Height: 13' 4"
Surface: Plywood/Alum.
Optional Monitor World: 8' x 16'  w/ vinyl windwalls
Clearance (10% Incline): 22' 2"
Trailer Weight: 16, 560 lbs
Design live load: 100 lb/ft
Site Prep: None
Surface: Alum. panels
Equipment Capacity: 5, 940 lbs
Hauling Mode: 1 ton dually pickup truck
Speaker fly bays: 2,500 lbs. (ea)
Equipment Space: 30' x 8' x 5.5'
Lift Mechanism: Wireless remote
Axles: (3) 8,000 lb  Axles
Lifting capacity: 7,500 lbs.
Electric Brakes: All wheels
Total roof load bearing: 17, 500 lbs.
Storage Compartments: (2) 7' 8" x 13" x 2'
Tilt: Roof tilts 10 °
Truss rigging: 50 lb./lin. ft.